When you're dealing with people, be it with friends, colleagues, clients or meeting new people, your smile is the first thing they will notice about you. This can be cited as one reason your dental care is important. In addition, oral hygiene is also crucial as dental ailments can be an extremely painful experience. The best dental care is preventive treatment. However you can combine this with available restorative treatments to create the perfect oral care regime for yourself.
First and foremost visit your dentist on a regular basis and follow some of these basic dental care tips to ensure that you will always have a vibrant smile and a healthy set of teeth. He will be able to give you tips on preventive care and advice you on steps you can take to remedy your problem areas, such as flossing daily or using a different toothpaste. In addition to this he will advice you on other routine dental care procedures such as brushing your teeth twice a day and watching your diet. In the case of discolored teeth caused by various reasons such as the types of food we consume, you can also use a restorative treatment such as teeth whitening to reverse the damage that may have already taken place.
Maintain healthy food habits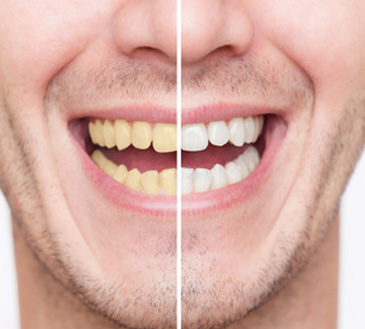 Watch your diet and try and avoid types of food that can be damaging to your teeth. For instance, avoid sugary foods and foods that are too hot or too cold. Also avoid sticky food that can get stuck on your teeth and will be more difficult to get rid of. Brush your teeth after eating sticky food to limit the damage it can cause. Also avoid acidic food as it can raise the acid level in your teeth and lead to enamel build up and other types of food that can cause discoloring. Ask your dentist for some guidance in this regard.
Restorative treatment for discolored teeth
Sometimes the damage to your teeth might be inevitable. Despite the doctors orders many people will still consume sugary foods and beverages such as coffee that can discolor teeth. In such instance you can use simple cosmetic measures such as teeth whitening to restore the whiteness to your teeth.
The most basic oral care advice you should follow
Brushing twice a day is the most essential step to maintaining your dental hygiene. Furthermore you can give your teeth that extra protection from cavities by using a toothpaste which contains fluoride. Different types of toothpaste can cater to different needs such as teeth sensitivity or even teeth bleaching so you can also ask your doctor for some toothpaste recommendations.